The idea of wearing a handbag as part of your attire at a wedding in the UK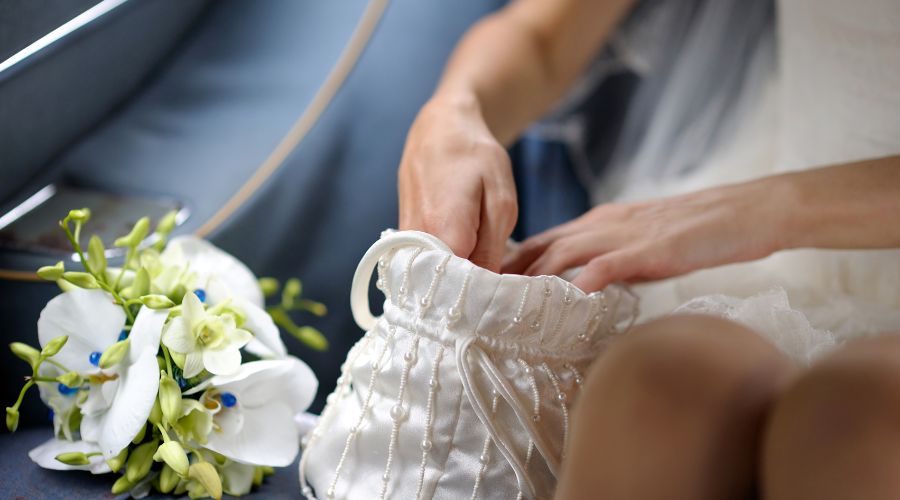 Handbag attire ideas at a wedding:
Clutch: A small, handheld bag that can be carried or tucked under the arm.

Envelope Clutch: A flat, rectangular bag with a fold-over flap.

Mini Bag: A small, structured bag, often with a chain strap.

Minaudiere: A decorative, hard-shell clutch often with embellishments such as beads or crystals.

Crossbody Bag: A small to medium-sized bag worn across the body.
It's important to choose a handbag that complements the style of your outfit, but also has enough room to carry essentials such as a phone, lip gloss, and wallet. Avoid choosing bags that are too large or overly casual for a wedding setting.
When choosing a handbag for a wedding, there are several factors to consider to ensure it complements your attire and fits the occasion. Here are some details to keep in mind:
Color: Choose a handbag that coordinates with your outfit. If you're wearing a neutral color, opt for a metallic or brightly colored bag for a pop of interest. If your outfit has a bold pattern, choose a neutral-colored bag.

Size: Consider the size of your handbag in relation to your outfit. A petite clutch or mini bag works well with a formal gown, while a medium-sized crossbody bag is a good choice for a cocktail dress.

Material: Opt for a dressy material such as satin, silk, or leather. Avoid denim, canvas, or other casual materials.

Style: Choose a style that complements the formality of the wedding. A decorative minaudiere is a good choice for a black-tie affair, while a simple clutch or crossbody bag is suitable for a more casual wedding.

Functionality: Make sure your handbag is big enough to carry your essentials, but not so large that it becomes a hindrance.
Remember, a wedding is a special occasion and your handbag should reflect that. Choose a handbag that fits both your outfit and the occasion for a polished, put-together look.