Faux-Leather Clutch Bags: The Epitome of Style and Compassion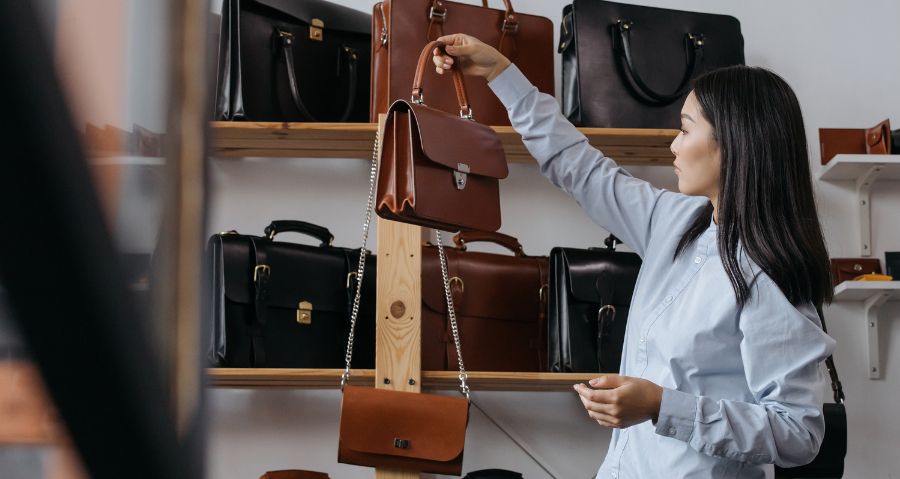 Faux Leather Clutch Bags Are At the Pinnacle of Style and Compassion

Faux-leather clutch bags are timeless fashion accessories that embody elegance, versatility, and ethical living. Crafted from synthetic materials such as polyethylene plastic or vinyl resins, faux-leather clutch bags offer luxurious looks without using animal products; making faux leather clutch bags an indispensable choice for those who value both style and compassion:

1. Making An Informed Choice:
Faux leather clutch bags offer an ethical fashion solution without animal welfare implications, appealing to those with strong environmental commitments who prioritise sustainable fashion. 
2. Endless Variety:
These clutch bags offer something to fit everyone, with styles ranging from envelope clutches for formal events to wristlets perfect for casual outings - there is sure to be one perfect faux leather clutch out there that works with every wardrobe!

Faux leather has long been prized for its resilience to wear and tear. Additionally, unlike real leather, faux requires minimal care or maintenance: simply wiping it down regularly will keep it looking new after years of use!
4. Affordable Luxury:
Faux leather clutch bags provide an accessible way to enjoy the elegance and sophistication associated with leather accessories without breaking your budget. Elevate your style effortlessly without straining it further!
5. Colorful Expressions:
Faux leather can be dyed in an extensive palette of hues to find one to reflect your personal taste - classic blacks, vibrant reds or soft pastel hues can all find expression here! The possibilities are nearly limitless!

Faux leather clutches make it effortless to switch from day to night wear. Ideal for carrying essentials during the daytime and transformed into stunning evening accessories by simply tucking away its straps or handles for evening use, faux-leather clutches are an effortless transition that seamlessly transitions from daytime use to chic evening chic accessories.
7. Versatile Sizing: With various sizes to choose from, faux leather clutches offer flexible solutions for accommodating everything from phone and keys to makeup and wallet.

Many faux-leather clutch bags feature stylish embellishments such as studs, tassels and metallic accents to add some flare and personality to any look. 9 Mix and Match Versatility: When picking out an ensemble for use as your clutch bag of choice it should provide plenty of choice between combinations that work.

These clutches make an easy addition to a variety of outfits - from everyday casual wear to formal attire and business ensembles - making them the go-to accessory for different events and occasions.
faux-leather clutch bags represent both responsible and fashionable fashion.
Their array of choices ranging from design to color makes them versatile additions to your wardrobe; elevate your style while making an ethical fashion statement and embrace faux-leather clutch bags today for their multitude of uses!